S H Kelkar & Company Ltd
Personal Products
FV – Rs 10; 52wks H/L – 189.8/81; TTQ – 3680; CMP – Rs 160(As On September 28 , 2021);                      
            Market Cap – Rs 2248 Crs
Consolidated Financials and Valuations for FY20 (Amt in Rs Crs unless specified)

Equity Capital

Net worth
 Debt

Total
Sales
PAT

BV
(Rs)

EPS (Rs)

P/E

P/BV

Promoter's
Stake
141.32
955
493
1345
144
68
10.2
15.7
2.4
58.57
Consolidated Financials and Valuations for Q1 FY22

Equity Capital

Net worth
 Debt

Total
Sales
PAT

BV
(Rs)

EPS (Rs)

P/E

P/BV

Promoter's
Stake
141.32
1036
493
359
81
73
5.7
28
2.2
58.57
On July 22nd, SHK temporarily suspended operations at its unit in Mahad on account of unprecedented rains, which caused severe flooding and major power outage in the area. The Company has conducted a survey, wherein the total repair and damage cost at the plant due to flooding was approximated to be at Rs. 6 to 7 Crs. The factory operations at the unit are likely to remain suspended till September 2021 and the Company is undertaking all necessary steps to resume the operations at the earliest
The Company witnessed normalization in demand and enquiries in domestic and international markets during Q3 FY 2020-21 with steady engagements across the mid & large sized FMCG customers In addition, CFF, the Company's 100% wholly-owned subsidiary, also delivered an encouraging performance. during the quarter supported by robust demand and volume off-take in the European markets. This is the first full quarter of consolidation of CFF in SHK's performance
Fragrance segment, which contributes 90% to total revenue, clocked a healthy 7.9% growth in domestic business and 4.7% growth in the international business. Flavours segments de-grew by 17.9% in domestic business but posted 17% growth in the international business.
The Company reduced Net Debt as on 31 March 2020 to Rs. 299 Cr as compared to Rs. 400 Cr as on 30 September 2019 after accomplishing buy-back and interim dividend.
On the international front, the manufacturing facilities at China (Anhui Ruibang) and Italy (Creative Flavours and Fragrances SpA) continue to be fully operational in FY 2020-21. From mid January 2020 to the 1st week of March 2020, the manufacturing facility in China was shut initially for maintenance and later due to COVID-19 outbreak. The Company was geared to increase production at Mahad facility to meet possible surge in demand.
The Company rolled out a dedicated team, creative support and plan for MENA region and saw good growth traction in various countries like Sri Lanka, Myanmar, Bangladesh etc.
The Company is looking to expand its distribution in the neighbouring countries, especially in the food segments in Africa, Middle East and Russia. The export market which constitutes 60% of business is expected to grow at a faster pace.
SHKL sources 30% of its raw material from China. However, on account of adequate inventory position for 4QFY20, management doesn't see any significant impact of the Coronavirus led lockdown in China currently. Further, management will review the situation.
The recently added industrial segment is doing well for the company and is expected to generate INR100m in revenue for FY20. Management believes that the segment could be an INR2b opportunity in the future.
The China is at a very low capacity utilization at the moment at 20%, Mahad and Vapi continue to be above 80% and the Fragrance and Flavour plants are around 50%-55% utilization. (Earnings call Transcript)
On July 28, 2020, SHK through its Italian subsidiary — Keva Italy Srl, concluded the acquisition of the remaining 49% equity stake in Creative Flavors and Fragrances (CFF). CFF is now a 100% wholly-owned subsidiary of SHK CFF delivered an encouraging performance during the quarter ended September 30, 2020 on the back of increasing demand and volume off-take in the Italian market during the period under review.
Fragrance Division :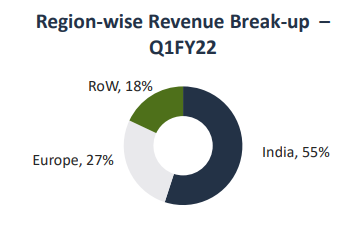 Overview:
• S H Kelkar and Company Limited is an India-based fragrance and flavors manufacturing company.
• The Company is engaged in offering fragrances in various categories, such as personal care, hair care, skincare and cosmetics, fabric care, household products and fine fragrances.
• The Company offers flavors in various categories, such as dairy products, beverages, confectionery, bakery products and pharmaceuticals.
• It also offers a range of services, which include bio technology research service, cosmetic research service, cosmetic testing laboratory and custom synthesis services.
• The Company offers products under SHK, Cobra and Keva brands.
• The Company has a strong and dedicated team of scientists, perfumers, flavourists, evaluators and application executives at its facilities and five creation and development centres in India, Singapore, Amsterdam, Indonesia and Italy for the development of fragrance and flavour products.
• The research team has developed 12 molecules over the last three years. The Company has filed 13 patent applications in respect of molecules, systems and processes developed by it, of which 2 have been commercially exploited in deodorant and fine fragrance categories.
• Over the years, SHK has developed a vast product portfolio of fragrances and flavour products for the FMCG, personal care, pharmaceutical and food & beverages industry.
• The Company has a diverse and large client base including leading national and multinational FMCG companies, blenders of fragrances & flavours and fragrance & flavour producers.
• The company has 12 subsidaries & 2 JV's.
Management:
• Mr. Ramesh Vaze– Chairman
• Mr. Kedar Vaze – CEO
• Mr. Shrikant Mate – CFO
Major Non – Promoter Holdings:
| | | |
| --- | --- | --- |
| Non – Promoters | No. of shares held | % shares held |
| IDFC Multi Cap Fund | 2809670 | 2.04 |
| Tata Mutual Fund – Tata Small Cap Fund | 2406248 | 1.74 |
| Kotak Mahindra (International) Limited | 2082318 | 1.51 |
| Harding Loevner International Small Companies Portfolio | 1568501 | 1.14 |
| Blackstone Capital Partners (Singapore) Vi Fdi Two Pte. Ltd. | 14439269 | 10.46 |
Share Price Trend: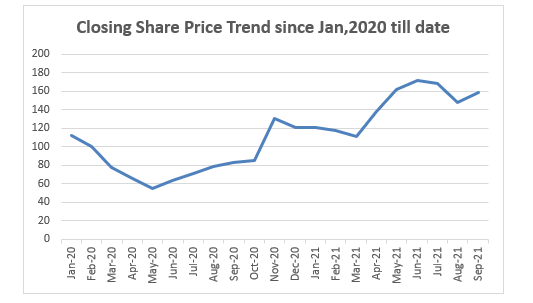 https://www.bseindia.com/xml-data/corpfiling/AttachHis/34d30843-6398-4264-b28a-42bafedb8a37.pdf
https://www.bseindia.com/xml-data/corpfiling/AttachHis/83557a22-b900-4a95-9899-7ca959429d1b.pdf