Jeena Scriptech Alpha Advisors Pvt Ltd is a prestigious & exclusive Mumbai, India based SEBI Registered Investment Advisory,  Equity  Analysis and a Fundamental Equity Training & Mentoring Entity led by Gaurav A Parikh, recognized over the past three decades as one of India's pioneering & leading Fundamental Equity Stock Picker, Trainer & Mentor.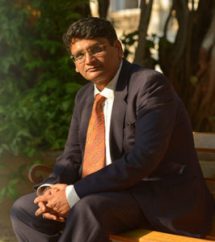 Gaurav A Parikh, the Co-Founder & Managing Director of Jeena Scriptech Alpha Advisors Pvt Ltd, has been featured as one of India's finest Stock Pickers for five years in a row in the Special Annual Editions from 2015 to 2019 by Outlook Business.
His strong assertion that "Wealth of Mind & Wealth of Monies should Move in Tandem"  comes across passionately when you interact with him or read his popular blogposts on www.gauravblog.com.
He has been a pioneering faculty since 1990 with the BTI Institute Ltd of the Bombay Stock Exchange having co-structured the popular workshop on Fundamental Analysis & specially conceived a Workshop on "Equity Portfolio Structuring and Stock Analysis". In 2015 NSE invited him to be a Mentor in their Equity & Wealth Management Training Programmes. His customised equity workshops for Mutual Fund and Broking  Groups, other Institutions and even the public at large have always gone houseful. His reputation as a powerful influencer in Equity Markets and Corporate Governance Issues has been enhanced considerably with his addresses at forums in India and overseas and his growing fan base for his rich content blogposts       
 He is the ideal 'Go to' Man for both, for Mentoring Equity Minds & for Serious Wealth Creation through Direct Equity in India. He can smell an Opportunity or Con even before any Analysis ~ Call it Intuition in a Hurry if you will!  This is also reflected in our tag line Integrating Intellect with Instinct.
 His fundamental stock selections & full equity portfolios have consistently registered strong annual alpha returns in the past three decades. He's given innumerable Multi-baggers as well. On the flip side his timely warning and contrarion sell calls going against popular tide at the time on Stocks that went on to strangle, reinforced his credibility to recommend without fear, favour, bias or vested interest.
Investment Philosophy & Approach
While we do, of course, consider the prevailing influence & impact of the global & Indian macro investing environment & what could follow, especially in the short term, our defined fundamental approach to identify Stock Selection Ideas to CREATE & PROTECT ALPHA WEALTH is a five step evaluation process that could lead from changing macro & sector dynamics or from standalone specific company analysis. It involves
Assessing Promoter and Management Pedigree for their Mindset, Vision, Leadership, Domain Expertise & Corporate Governance
Examining the Business Model to sense Ability & Scalability to back Intention
Reviewing Past, Present and Projected Financials to gauge potential & sustainable higher Returns on Equity & probability of non linear profitability going forward
Arriving at an Equity Valuation based on Traditional & Contemporary, Relative & Absolute Valuation basis
Pitching Value vs Share Price  to  conclude on a mispricing opportunity & any downside risk