Great Eastern Shipping Company Ltd
Shipping
FV – Rs 10; 52wks H/L – 369.35/168.95; TTQ – 12 K; CMP – Rs 270 (As On August 5, 2020);                     
            Market Cap – Rs 3968 Crs
Consolidated Financials and Valuations (Amt in Rs Crs unless specified)
 

Equity Capital

Net worth
Debt

Total
Sales
PAT

BV
(Rs)

EPS (Rs)

P/E

Industry P/E

P/BV

Promoter's
Stake
FY20
146.97
6796
4786
3948
207
462
14
19.3
10.66
0.6
28.83
Q1 FY21
146.97
7264
4786
1196
468
494
32
8.4
10.66
0.5
29.13
Debt to Equity – 0.7
ROE – 3.04%
Market Cap/Sales – 1
On May 30, the Mumbai-based company's board approved a proposal to incorporate a wholly owned subsidiary – Great Eastern Services Ltd. (https://www.thehindubusinessline.com/economy/logistics/great-eastern-shipping-ventures-into-third-party-ship-management/article31786445.ece#)
During the year, the company declared and paid first interim dividend of Rs. 5.40 per share. Subsequent to the end of the year, they declared second interim dividend of Rs. 2.70 per share. (total dividend Rs. 8.10 per sahre)
During the year the company announced buyback of its equity shares from the open market through stock exchanges at a price not exceeding Rs. 306 per share for an aggregate amount not exceeding Rs. 100 crore. . The Company bought back 3810581 equity shares of Rs. 10 each for an aggregate amount of Rs. 99.94 crores. The highest, lowest and average market price at which the shares were bought back was Rs. 305, Rs. 221 and Rs. 261.60 per share respectively.
The company achieved an operational efficiency of 99.5% on the shipping fleet.
Overview:
G E Shipping is India's largest private sector shipping service provider enjoying a formidable presence in the international maritime industry. The shipping business operates under two main businesses: dry bulk carriers and tankers.
Backed by an enviable clientele comprising industry leaders, international oil companies and governments who vouch for its services, the division has earned the status of being the most preferred shipping service provider.
With a pulse on the global market and a thorough understanding of the ever-evolving market needs, the division is well-equipped to anticipate the demands of its clients and to deliver on its commitments, successfully and satisfactorily.
As at 31st March 2020, the fleet size stood at 46 ships aggregating to 3.70 million dwt, with an average age of 12.20 years. During the financial year, the company delivered to buyers a Very Large Gas Carrier (VLGC) which it had contracted to sell in FY 2018-19, and also sold and delivered to the buyers a Suezmax crude carrier.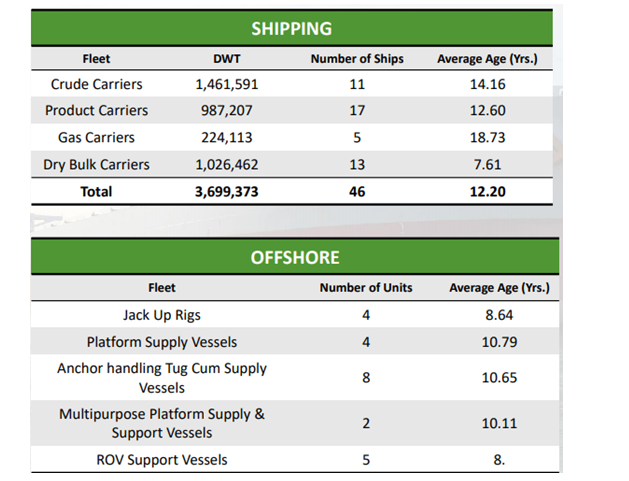 Source : Investor Presentation
Shipping Fleet Breakup: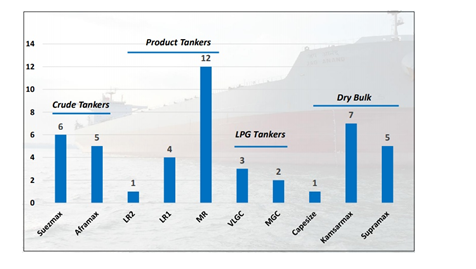 Source : Investor presentation
Management:
K. M Sheth – Chairman
G. Shivakumar – CFO
Shareholding Pattern: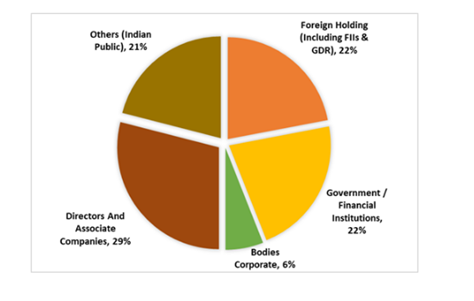 Major Holdings:
| | | |
| --- | --- | --- |
| Non – Promoter | No. of shares held | % shares held |
| ICICI Prudential Value Discovery Fund | 11707214 | 7.97 |
| HDFC Small Cap Fund | 4550858 | 3.1 |
| UTI – Core Equity Fund | 2668979 | 1.82 |
| SBI Large & Midcap Fund | 7908359 | 5.38 |
| Fidelity Puritan Trust | 4700000 | 3.2 |
| Franklin Tempelton Investment Funds | 2672519 | 1.82 |
| Nalanda India Equity Fund Ltd | 10524139 | 7.16 |
| GIC of India | 2964511 | 2.02 |
| ICICI Prudential Life Insurance Co. Ltd | 2018477 | 1.37 |
Share Price Trend: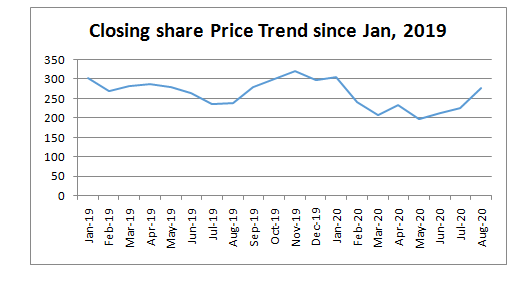 Share Price Snapshot:
| | | | | |
| --- | --- | --- | --- | --- |
| Year | Open (Rs.) | High (Rs.) | Low (Rs.) | Close (Rs.) |
| 2015 | 365 | 420 | 326.75 | 369.8 |
| 2016 | 368 | 397.6 | 275 | 362.75 |
| 2017 | 364.25 | 477 | 350 | 399.05 |
| 2018 | 400.95 | 482.4 | 266.1 | 317.2 |
| 2019 | 317.55 | 330.65 | 212.2 | 298.75 |
| 2020 | 299.55 | 369.35 | 168.95 | 276.05 |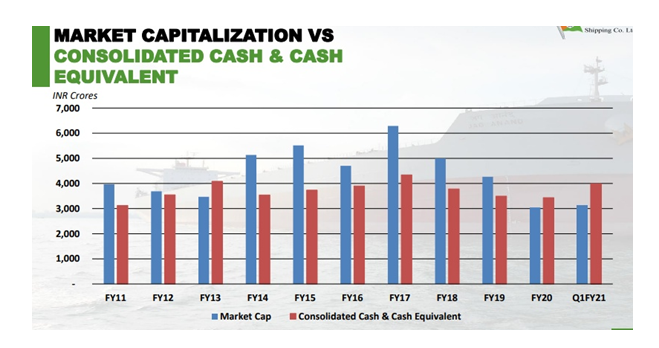 Source : Investor Presentation
Financial Trend: (Rs. Crs unless specified)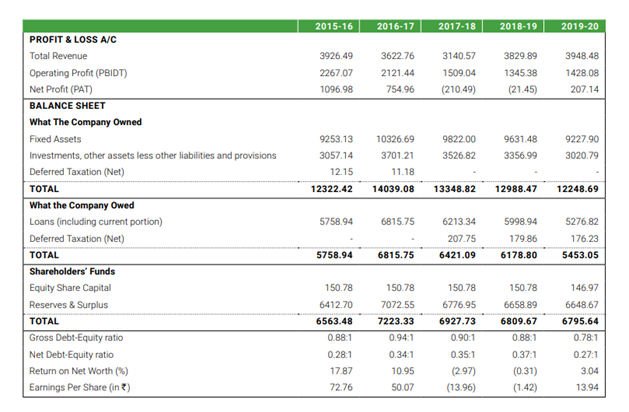 Source : Annual Report
Segment Revenue: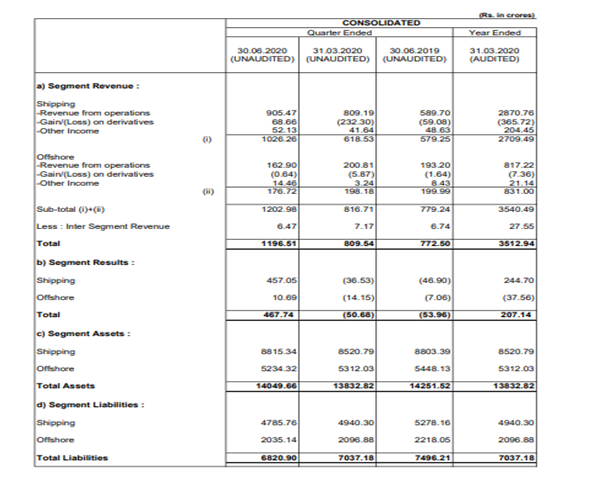 Source : Company Results
Peer Comparison:
| | | |
| --- | --- | --- |
| Particulars | GE Shipping | Shipping Corp |
| Face Value (Rs.) | 10 | 10 |
| CMP (Rs.) | 270 | 55 |
| 52 week high/low (Rs.) | 369.35/168.95 | 69.8/24.85 |
| Market Cap (Rs.Crs) | 3968 | 2578 |
| Equity Cap (Rs.Crs) | 146.97 | 465.8 |
| Networth (Rs.Crs) | 6796 | 7484 |
| Debt (Rs.Crs) | 4786 | 3663 |
| Sales (Rs.Crs) | 3948 | 4105 |
| PAT (Rs.Crs) | 201 | -63 |
| EPS (Rs.) | 14 | -1.4 |
| Book Value (Rs.) | 462 | 161 |
| P/E | 19.3 | NA |
| P/Bv | 0.6 | 0.3 |
| Fleet Size (Nos.) | 46 | 60 |