LIC IPO  at Rs 902 to Rs 949
Leave ~ Invest ~ Cheer from the Sidelines ?
On Listing will be  in TOP 5 Market Cap Companies
LIC IPO ~ Leave ~ Invest ~ Cheer from the Sidelines ? The Fate of Large-Scale IPOs of recent and earlier past as below would signal Red for LIC IPO  
However, one needs to dive, not too deep though, a bit more before concluding whether the IPO needs to be subscribed too or not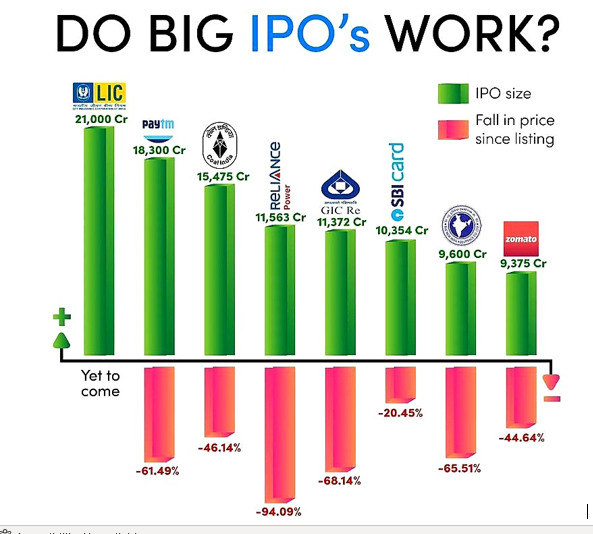 LIC IPO Details
IPO Opening and Closing Date
Opening May 4, 2022, ~ Closing May 9, 2022
LIC Implied Value at Rs 949 & US $= Rs 76.50
Rs 6 lakh Crores => US $ 78 Billion
Issue Type
Book Built  Full Offer for Sale IPO
Face Value
₹10 per equity share
IPO Price
₹902 to ₹949 per equity share

(Rs 45 Discount to Retail and Employees and Rs 60 to Policyholders)

Market Lot  and Minimum Bid
15 Shares
Equity
Rs 6325 crs comprising 632.5 cr shares of FV Rs 10  owned 100% by Government of India
Listing At
BSE, NSE
Issue Size is 3.5% of Equity
221,374,920 Eq Shares of ₹10
(aggregating up to ₹21,008.48 Cr)

Government of India will hold 96.5% post IPO

LIC Embedded Value
Rs 5,39,686 crs as on September 30,2021
NAV/Share
Rs 12.68 as on September 30,2021 based on relevant Networth of Rs 8020 crs
EPS
Rs 2.38 as on September 30,2021 and Rs 4.70 based on March 2021 Earnings after considering enhanced Equity Capital after Bonus Issues on September 8,2021
LIC will be the Fourth or Fifth Largest Market Cap Company in India on Listing
Total BSE Market Capitalisation at closing on Monday, May 2,2022 was Rs 2,65,88,212 crs ( US $ 3.5 Trillion). Interestingly LIC value of its Investments in Listed Equity is @ US 140 b or near 4% of the Market Cap
FY 23 GDP Projected is Rs 25800000 crs =>  US $ 3.4 Trillion .Thus the Market Cap/GDP currently is 1.03 .LIC should  add Rs 6 lakh crores to the Market Cap and this ratio should move up marginally to 1.05
Below are the Top 20 Listed Companies in India by Market Cap as on Monday, May 2,2022 .LIC will be the First Life Insurance Company to feature in this List. Three of the Private Listed Life Insurance Companies are HDFC Life (Mkt Cap Rs 122458 crs at Rs 580), SBI Life Insurance (Rs 108115 crs at Rs 1081) and ICICI Prudential ( Mkt Cap Rs 74553 crs at Rs 519)
LIC on Listing at IPO Pricing will displace HUL from the Fifth Spot and if it lists at over Rs 1025 at  a premium of over 8% on Top Band of Rs 949 it will challenge Infosys for the fourth place .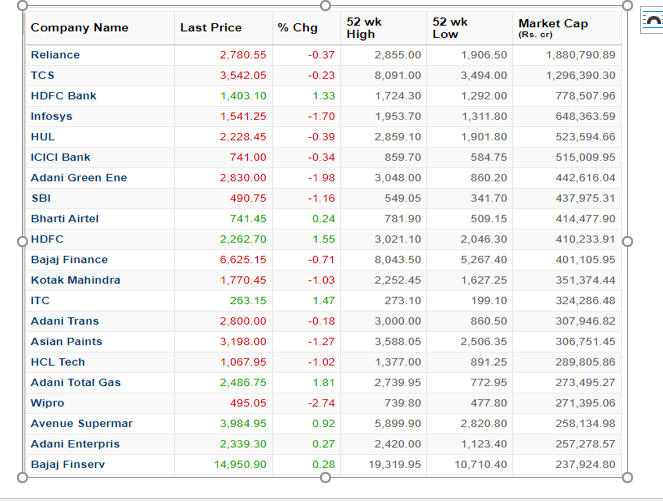 ANCHOR INVESTORS
LIC IPO Anchor Investor Portion was oversubscribed and on May 2,2022 allocation was finalized of Rs 5627 crs comprising of 59,296,853 LIC Shares at Rs 949 to 123 Institutions of which 71.12 % or 42,173,610 shares have been allocated to 99 Schemes of 15 domestic mutual funds .Top Investors include Government of Singapore Sovereign Funds  and BNP Investments and the whole spectrum of Indian Mutual Fund Houses of SBI, ICICI, HDFC, Aditya Birla ,Axis among others
To attract such Anchor Investors ,SEBI had cut down lock-in of the shares allotted from 90 days to 30 days
Interestingly LIC has Assets under Management which are 1.1 Times the whole Mutual Funds Industry and 17% of GDP   
OUR VIEW
By Invading Ukraine in late February 2022,Putin of Russia Put paid to India launching the LIC IPO in March 2022 at over Rs 15 lakh Crores at over 2.5 times embedded value. India has had to settle at 1.1 times embedded value at Rs 6 lakh crores at Rs 949 Top end of the IPO Price Range . In a sense Russia invaded LIC too ! It more than halved the value !
LIC was desperate to list ~ Not a bad thing as instead of Rs 2000 to 2200/share it's coming in a lower band of Rs 902-Rs 949  and indicates a positive listing as Feb 2022 Grey Market Premium  was – Rs 50 is now it's + Rs 50
On Embedded Value, the Bigger the Company you are, the lower will be the Value/Embedded Value Multiple. Market Leader (yet over 60% Market Share 22 years after 2000 when Private Players were allowed into the sector)  LIC's  IPO is at 1.1 times while Domestic Peer Group Multiples are all over 2. The Largest Global Life Insurer, Ping of China is at 0.55.
Interestingly the LIC embedded Value was under half a lakh crs and One Lakh crs end FY 20 and FY 21 respectively. On change in basis ,it surged to Rs 5.4 lakh crores as on September 30,2022.Other Indian Listed Life Insurance Companies have an embedded value below Rs 35000 crs   
LIC should have the largest Shareholder Base in India with over 5 m shareholders expected . Reliance Power has 3.57 m shareholders (Record 4 m in January 2008 on listing ) while Reliance Industries has 3.33 m as on March 31,2022
Govt stake will be 96.5 % post IPO and further Issues after a Year will follow
LIC will in due course be introduced into the Sensex and Nifty and F & O ~ It will be in Large Institutional and MF Portfolios
SO, SHOULD LIC IPO BE SUBSCRIBED TO ?
If  as an Equity Investor ,you wear Patriotism strongly on your Sleeve then LIC IPO must be a 'Subscribe' So should be the 'I' Invest in LIC
Otherwise ask these two Questions :
Will LIC give Gains on Listing ?
If it's a 'Yes' for You as Grey Market Premium indicates and there should be a healthy allotment too even if the IPO is oversubscribed , then Stag Subscribe (Sell to book 5% to 10% gains on Listing).
Our View is that Gains are indicated on Listing . So should be the 'I' Invest in LIC
Will LIC be a great Core Compounder in the coming decade ?
If it's a 'Yes', then Subscribe ~ Unsure ,then await Listing and then take a call later in 2022  .Of Course if you subscribe and are allotted ,you can also add further ,especially if the LIC Price drops below IPO Price in the coming months.
Our View for the Longer term is  you need to decide, like you do for any other potential selection, if LIC needs to be there in your Direct Equity Core Portfolio. Of Course, LIC should be a Compounder ,however how healthy remains to be seen.  In our View, at this juncture LIC is not as strong a contender for Direct Core when you already have other clearly established Core Selections with better Compounding potential. So should be 'L' Leave and 'C' Cheer from the sidelines  in LIC  
Interesting Extracts from the Draft Red Herring Prospectus filed with SEBI first on February 13,2022 form part of this SCRIP STANDPOINT in the pages that follow
Cheers,
Gaurav Parikh, Managing Director
[email protected] +9820162597
Interesting Extracts from the Draft Red Herring Prospectus filed with SEBI on February 13,2022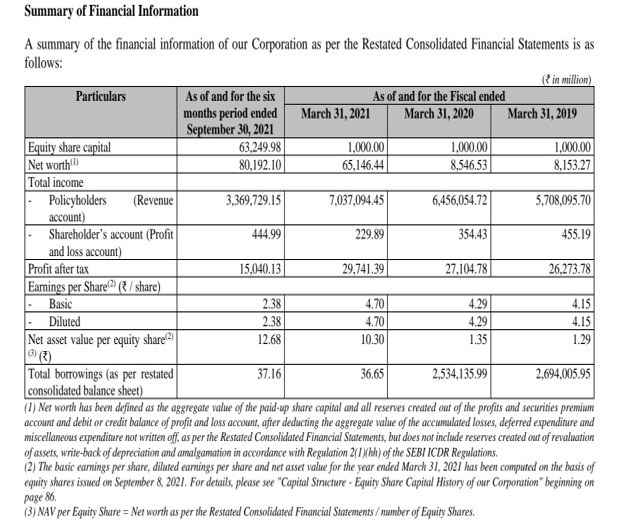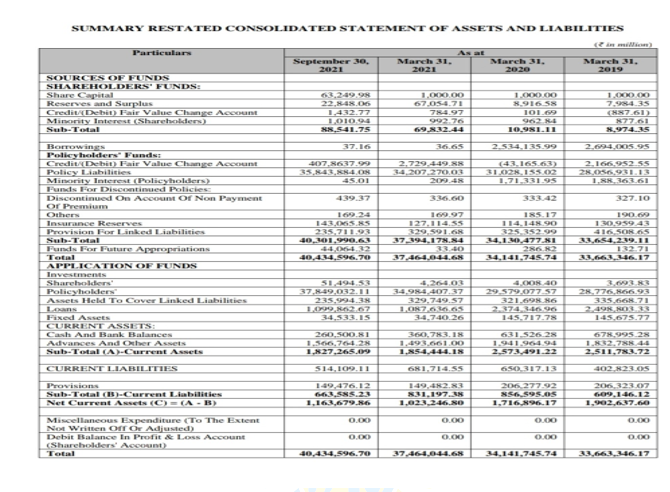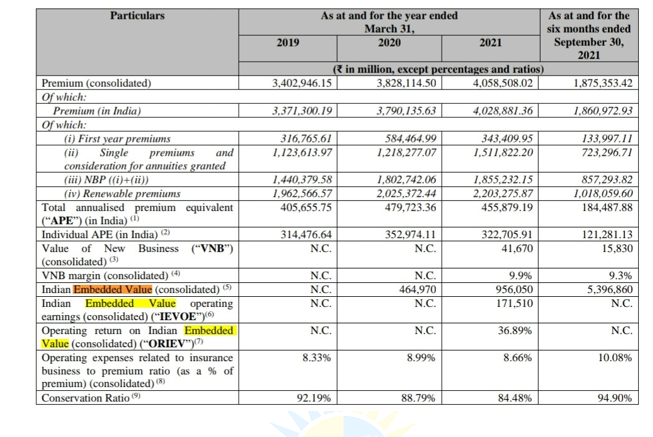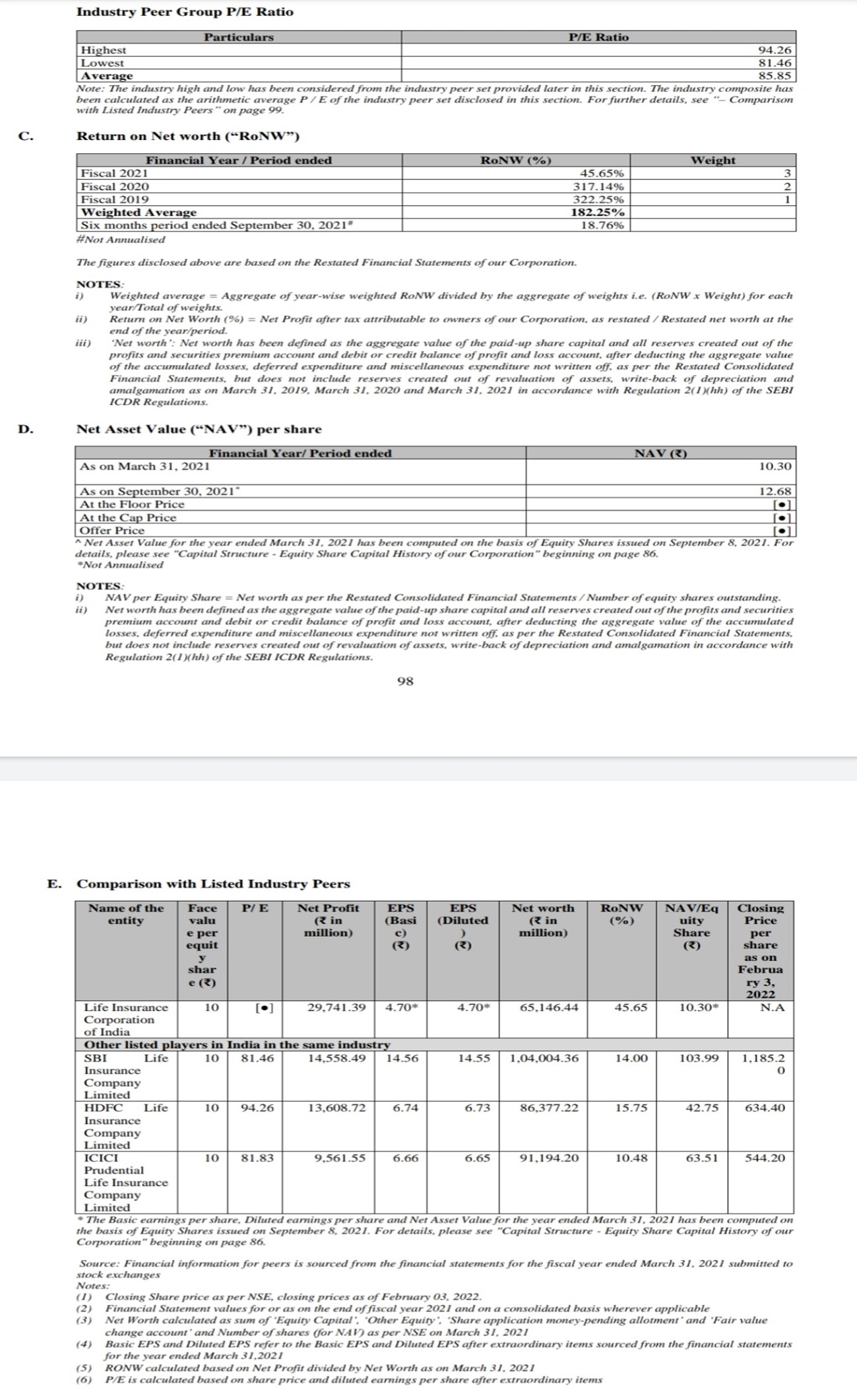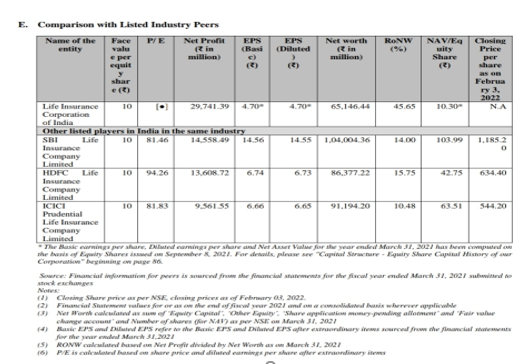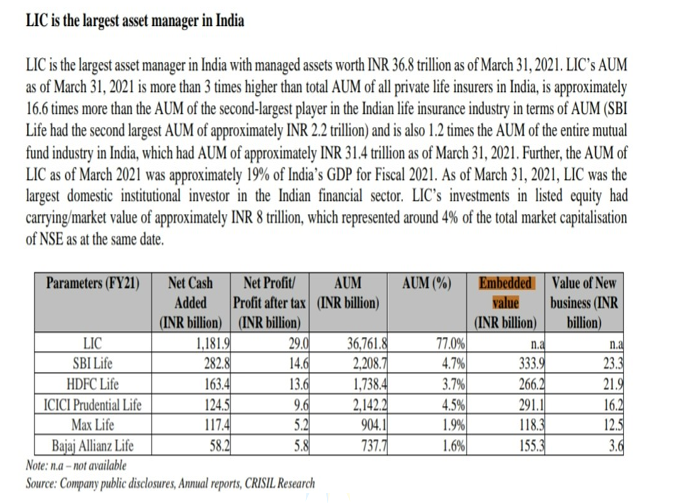 Disclosure & Disclaimer
Jeena Scriptech Alpha Advisors Pvt Ltd (JSAAPL) is a SEBI Registered Entity offering Fundamental Direct Equity Research Analysis, Equity Portfolio Advisory, Training & Mentoring Services in Capital Markets
This Report is under our free access SCRIP STANDPOINT Module.It is for the personal information of the recipient/reader. We are not soliciting any action based upon it. This report is not to be construed as an offer to sell or the solicitation of an offer to buy any security in any jurisdiction. It is our Viewpoint for general information purposes only. It does not take into account the particular investment objectives, financial situations, or needs of individuals & other entities .We have reviewed the report, and in so far as it includes current or historical information, it is believed to be reliable though its accuracy or completeness cannot be guaranteed. Neither JSAAPL, nor any person connected with it, accepts any liability arising from the use of this document. The recipients of this material should rely on their own investigations and take their own professional advice. Opinions expressed are our current opinions as of the date appearing on this material only. No part of this material may be duplicated in any form and/or redistributed without JSAAPL's prior written consent. In case you require any clarification or have any concern, kindly write to us at: [email protected]