Steel Exchange India Ltd
Iron & Steel/ Interm.Products
FV – Rs 10; 52wks H/L –263.5/45.1 ; TTQ – 3500 ; CMP – Rs 220 (As On February 15th, 2022) ;                    
                Market Cap – Rs 1973 Crs
Consolidated Financials and Valuations for FY21 (Amt in Rs Crs unless specified)

Equity Capital

Net worth
 Debt

Total
Sales
PAT

BV
(Rs)

EPS (Rs)

P/E

P/BV

Promoter's
Stake
80.39
302
508
898
140
38
12.6
12
5.7
49.78
Consolidated Financials and Valuations for H1 FY22

Equity Capital

Net worth
 

Debt


Total
Sales
PAT

BV
(Rs)

EPS (Rs)

P/E

P/BV

Promoter's
Stake
80.08
294
508
470
-8
37
-1
–

5.9

49.72
The company has successfully paid Rs.510.17 Crores and settled the dues of all the Lenders on 29.01.2021 that was almost 7 Months before the due date 31.08.2021 of OTS (One Time Settlement) by raising listed NCDs under private placement amounting to Rs.382.80 crores which was subscribed to by group of Investors led by M/s Edelweiss and the remaining Rs.17.20 Crores by way of equity share subscription for 44,04,059 equity shares on 01.02.2021 at a price of Rs.39 per share which includes share premium of Rs.29 per share by group of Investors led by M/s Edelweiss.
The Company approved allotment of over Rs. 2.3 crs Compulsory Convertible Debentures and 5822150 Convertible Warrants at Rs.72.5 each.
Overview:
Steel Exchange India Ltd has been established in the field of iron and steel manufacturing and is the AP's largest private integrated steel plant. The company aims to grow as a quality steel product hub, increasing the customer base and clientele organizations.
The Company was incorporated in Februarary 1999 as Pyxis Technology Solutions Ltd.
The company promoted by team of technocrats, friends and relatives.
In December 1999 the Steel Exchange India Ltd was incorporated as 100 percent subsidiary of Pyxis Technologies.
Management:
B. Satish Kumar – CMD
B. Ramesh Kumar – CFO
Share Price Trend: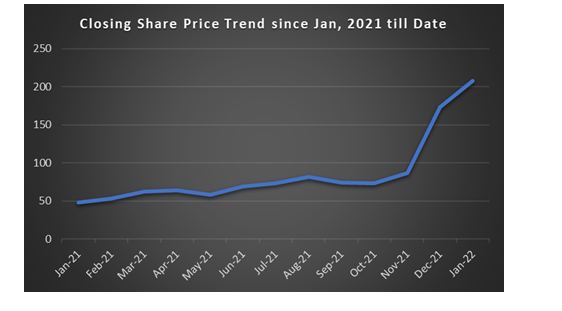 Share Price Snapshot:
| | | | | |
| --- | --- | --- | --- | --- |
| Year | Open (Rs.) | High (Rs.) | Low (Rs.) | Close (Rs.) |
| 2015 | 57 | 65.6 | 28.6 | 44.75 |
| 2016 | 44.9 | 94.95 | 26.2 | 88.9 |
| 2017 | 88 | 133.45 | 32.25 | 42.15 |
| 2018 | 42.1 | 50.65 | 13.6 | 15.4 |
| 2019 | 15 | 25.25 | 9.06 | 25.25 |
| 2020 | 26.5 | 47.05 | 11.61 | 46.3 |
| 2021 | 47.8 | 185 | 45.1 | 173.3 |
| 2022 | 174.45 | 263.5 | 174.45 | 207.9 |
Segment Results: