Tata Power Ltd
Electric Utilities
FV – Rs 1; 52wks H/L – 74.05/27; TTQ – 29.93 Lacs; CMP – Rs 43.95 (As On May 6, 2020);                  
      Market Cap – Rs 11887 Crs
Consolidated Financials and Valuations (Amt in Rs Crs unless specified)
Tata Power
Year
Equity Capital
Net Worth
Long Term Debt
Total Sales
PAT
BV
EPS
P/E
P/BV
Promoter's Holdings
Rs Cr.
Rs Cr.
Rs Cr.
Rs Cr.
Rs Cr.
Rs
Rs
%
2019
271
18066
32695
29699
1316
66.79
4.87
9.03
0.66
37.22
2018
271
16806
31139
30267
2606
62.13
9.63
4.56
0.71
33.00
Corp Actions: Split 10:1, 26th September, 2011
Price  Chart (2010-2020):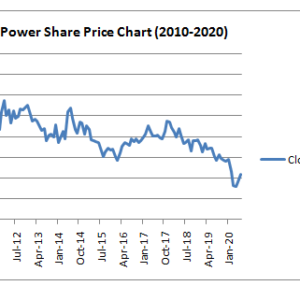 Recent News:
TPCODL Acquisition: On 2nd June, Tuesday, Tata Power announced that they acquired 51% of TPCODL (TP Central Odisha Distribution Ltd). TP Central Odisha Distribution Ltd (TPCODL) carries out the business of Central Electricity Supply Utility of Odisha (CESU). The acquisition paves the way for taking over the power supply business of five cities in Odisha by Tata Power.
Rights Issue: Tata Power announced on Friday, 5th June that its  plans to raise Rs. 2000 Cr through rights issue: Tata Power Co. Ltd, India's largest private power generation company, has started work on a rights issue to raise at least Rs 2,000 crore, as it looks to reduce debt and tap new opportunities.
The company could raise at least Rs 2,000 crore from the rights issue, although the final size of the offer could be significantly larger, the rights issue will be launched next quarter.
Petronas eyes stake in Tata Power's InvIT : Malaysian state oil and gas company Petroliam Nasional Bhd (Petronas) is in active negotiations with the Tata Group to become a key investor in Tata Power's planned renewable energy infrastructure investment trust (InvIT) as India's leading utility looks to unlock value and pare debt.