Borosil Renewables Ltd
Houseware
FV – Rs 1; 52wks H/L – 509.7/84.35; TTQ – 1.59 Lacs; CMP – Rs 436 (As On October 25, 2021);                      
            Market Cap – Rs 5675 Crs
Consolidated Financials and Valuations for FY21 (Amt in Rs Crs unless specified)

Equity Capital

Net worth
 Debt

Total
Sales
PAT

BV
(Rs)

EPS (Rs)

P/E

P/BV

Promoter's
Stake
13
615
61
508
90
47
7
62.3
9.3
61.83
Consolidated Financials and Valuations for H1FY22

Equity Capital

Net worth
 Debt

Total
Sales
PAT

BV
(Rs)

EPS (Rs)

P/E

P/BV

Promoter's
Stake
13
690
72
308
74
53
5.7
5.9
8.2
61.74
During the year, the Company started work on installing this 3rd furnace (SG-3) with an installed capacity of up to 500 MT and the work on the Project is progressing as per schedule. The said project is likely to be commissioned by July 2022.
Borosil Renewables Ltd (BRL) has successfully completed fundraising of Rs 200 crore through a qualified institutions placement (issue). BRL allotted 1,58,04,030 shares of the face value of rs.1 each at Rs 126.55 per share. Post the QIP issue, the holding of promoter and promoter group was 61.92 %. The funds raised will be utilised by BRL to service its capital expenditure requirements for a brownfield expansion to more than double its solar glass production capacity — from 450 tonnes per day (TPD) to 950 TPD.
The year 2020-21 saw a major transition in the company with improved operational performance as a result of achieving a higher scale after the capacity expansion implemented in 2019-20. The Company had in 2019-20 added a second furnace with a capacity of 240 MT/day, which was commissioned in August 2019 and also rebuilt the first furnace with an enhanced capacity to 210 MT/day, which resumed operations in December 2019.
The Ministry of Finance , Govt of India has imposed Countervailing Duty on imports from Malaysia of "Textured Tempered Coated or Uncoated Glass"(of which the Company is the sole manufacturer in India). The duty will be effective after the issuance of final customs notification by Ministry of Finance.
There is a Anti Dumping duty of 9.71% on Malaysian Imports as the company imports glass and is not the price setter and they don't intend to be the price setter in the coming years too as the capacity abroad is 40 times than their own capacity.
https://www.bloombergquint.com/business/borosil-renewables-says-capacity-running-flat-out-margins-will-improve
Revenue :

Overview:
• BRL is engaged in the manufacturing of low iron solar glass for application in photovoltaic panels, solar thermal flat plate collectors and greenhouses and is the only solar glass manufacturer in India.
• The company commissioned its first solar glass manufacturing facility at Bharuch in Gujarat.
• It services India's solar panel manufacturers while simultaneously exporting its products to Europe, Turkey and North America.
• BRL has developed a manufacturing process that does not require the use of Antimony (Sb) – an environmental toxin – in solar glass and also has developed a fully tempered solar glass in 2 mm thickness.
• The company services India's solar panel manufacturers and exports its products to Europe, Turkey, and North America.
Mr. P. K. Kheruka is the MD & CEO of the company.
Mr. Sunil Kumar Roongta is the CFO of the company.
Share Price Trend: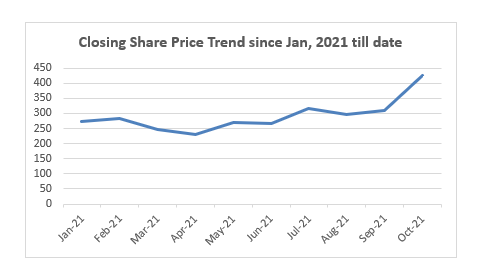 Share Price Snapshot:
On 14 Sept, 2017 there was a stock split from Rs. 10 to Rs. 1
On 2 August, 2018 there was bonus issue of 3:1
On 6 March 2020 there was spin off
(The Borosil Group, which runs the flagship kitchen and dining ware business under the brand names of Borosil and Larah, is amalgamating its two listed group companies and three promoter-held companies. Amalgamation envisages merger of Gujarat Borosil, Vyline Glass Works and Fennel Investment & Finance into Borosil Glass Works and also demerger of consumer and scientific businesses of Borosil Glass Works into Borosil, the group said.
The merger is to simplify group structure by eliminating cross holdings and will give Borosil Glass Works shareholders direct proportional shareholding in the Gujarat Borosil business to reduce related party transactions to create more administrative efficiencies.
Under the merger, two shares of Gujarat Borosil will fetch one share each in Borosil Glass Works and Borosil.)
Major Holdings:
Infinity Holdings holds 4.55% (5926510 fully paid up) shares of the company.