Gulshan Polyols Ltd
Commodity Chemicals
FV – Rs 1; 52wks H/L – 199.9/33.05; TTQ – 76 K; CMP – Rs 193 (As On June 17 , 2021);                      
            Market Cap – Rs 907 Crs
Consolidated Financials and Valuations for FY21 (Amt in Rs Crs unless specified)

Equity Capital


Net worth
 Debt

Total
Sales
PAT

BV
(Rs)

EPS (Rs)

P/E

P/BV

Promoter's
Stake
4.69
366
11
768
62
78
13.2
14.6
2.5
68.2
The company has become virtually debt free
The company has started off the process of setting up a 300KLPD Grain based Ethanol Manufacturing Facility at its existing site at Chhindwara, Madhya Pradesh for which Land has been acquired and Environment Clearance is awaited. Shortlisting of suppliers of Capital Items is under process. The project is expected to be on stream shortly after receipt of Environmental Clearance. Company has also received an In-Principle Approval of Government of India-DFPD for grant of Interest Subvention for maximum permissible Loan amount of ₹ 170 crs.
Based on Government of India's 'Ethanol Blending Petroleum Program' of selling petrol blended with Ethanol upto 20% by 2025 (Currently it is blending 10% Only), the Management is very much enthusiastic about future outlook of Ethanol Business, so it is exploring new locations and avenues.
The Ethanol business has become a feather on the cap of Company's performance in the Distillery segment which is doing exceptionally well due to processing and supply of 'Ethanol' to 'Public Sector Companies' and contributing into revenue growth by Rs. 46 crs in Q4'FY21 vs. Q4'FY20 and on yearly basis, it contributed Rs. 128 crs. Further, Company's performance in the Grain Processing business has grown in revenue by Rs. 44 crs in Q4'FY21 vs. Q4'FY20, due to good demand in the segment.
The company "during the Covid-19 pandemic situations and seeking the future opportunities" has successfully introduced the commercial production of Ethanol and started supplies to BPCL and HPCL and It was been awarded a tender of 72 lakh KL for the year 2020.
The company has also ventured into the production of WHO approved Hand Sanitizers with alcohol content of 80% which it is selling under 6 packing variants and also supplying to B2B customers in tankers and drums. Being the licensed manufacturer of key ingredient, and located right in center of the country, Company sees it as an opportunity to develop a new and sustainable product.
Overview:
Gulshan Polyols Limited ("GPL") is a multi location, multi product manufacturing company and has become a market leader in most of its products in India with global presence in 42 countries, across 3 continents. Its business portfolio covers Starch Sugars, Calcium Carbonate, Ethanol, Ethyl Neutal Alcohol, Agro based Animal Feed, & OnSite PCC plants with production facilities at Muzaffarnagar in Uttar Pradesh, Bharuch in Gujarat, Chhindwara in M.P., Dhaula Kuan in Himachal Pradesh, Abu Road in Rajasthan, Patiala in Punjab, Tribeni in West Bengal, Amlai in Madhya Pradesh. Gulshan Polyols Ltd. caters to wide range of industry & niche markets in core sector encompassing pharmaceuticals, personal care products, footwear, tyres, rubber & plastics, paints, alcohol, value added paper, agrochemicals, food and agro products. It caters to leading industrial units of the country such as Colgate Palmolive, Hindustan Unilever Ltd, Dabur, Asian Paints and ITC etc.
The company has three manufacturing segments viz Mineral Processing, Grain Processing & Distillery. The products processed under these segments, are having end use in multiple industries.
Starch Sugars Business: It includes Sorbitol-70% solution, Liquid Glucose, Native Starch, High Fructose Rice Syrup (HFRS), Brown Rice Syrup and Rice Syrup Solids. The Sorbitol-70% plant in Bharuch, Gujarat is working at optimum capacity and has been the highest revenue contributor in the growth of the company. The Rice-based Grain Processing Plant at Muzaffarnagar, has achieved optimum level of capacity utilization and was the main growth driver and will remain the same in the future also.
Native Starch/ Maize Starch: It is the main carbohydrate nutrient from different sources of vegetation. Maize or corn starch powder is white, odorless and tasteless, which is extracted from kernel of maize/ corn. It is widely used as a thickener and a stiffening agent with numerous industrial applications.
High Fructose Rice Syrup (HFRS) which is naturally found in fruits, honey, corn syrup and molasses. Commercially, High Fructose Rice Syrup is used as a sweetener in flavored and unflavored syrups, energy drinks, processed food, bakery products.
Brown Rice Syrup, popularly known as Liquid Glucose. It is a preferred sweetener for natural/healthy foods. Rice syrup is used as base sweetener in edible sweet syrups (Flavored / Unflavored), blended honey, bakery foods, cakes, pastries, fillings, toppings, candies, canned fruits, health drinks, juices, soft drinks, Dairy products, icecreams.
 Rice Syrup Solids which is also known as dried glucose syrup or Glucose Powder. It is usually used as sweetener and stabilizers for moisture & texture in baked goods, confectionary (hard candy), dairy products, processed meats, seafood and also used by breweries to lighten beer color, add body, rice flavor and fermentable sugars. It is easily dispersed into water for ease of use in quick dissolving beverage mixes.
Management:
C. K. Jain – CMD
Ashwani Kumar Vats – CEO
Rajiv Gupta – CFO
Share Price Trend: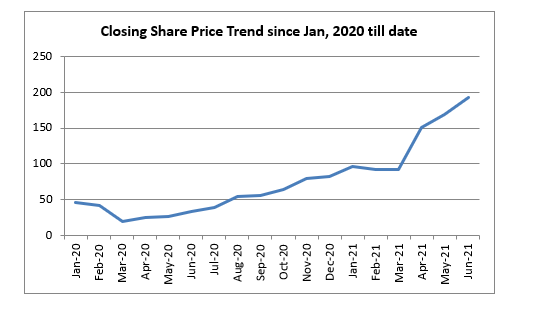 Share Price Snapshot:
| | | | | |
| --- | --- | --- | --- | --- |
| Year | Open (Rs.) | High (Rs.) | Low (Rs.) | Close (Rs.) |
| 2015 | 214.85 | 480 | 207 | 456.2 |
| 2016 | 460 | 490 | 71.2 | 73.7 |
| 2017 | 74 | 113.95 | 72 | 86.35 |
| 2018 | 82.15 | 98.9 | 48.1 | 65 |
| 2019 | 65 | 71.5 | 32.55 | 41.6 |
| 2020 | 43.35 | 88.95 | 19.9 | 82.25 |
| 2021 | 82.05 | 199.9 | 80.1 | 193.35 |
Sources:
Annual Report – https://www.bseindia.com/bseplus/AnnualReport/532457/65046532457_17_10_20.pdf
Result – https://www.bseindia.com/xml-data/corpfiling/AttachHis/2465b656-a8b9-4924-972b-85e17b9bd675.pdf