Indian Energy Exchange Ltd
Other Financial Services
FV – Rs 1; 52wks H/L – 956.15/199.05; TTQ – 76 K; CMP – Rs 820 (As On November 17, 2021);                      
            Market Cap – Rs 24517 Crs
Consolidated Financials and Valuations for FY21 (Amt in Rs Crs unless specified)

Equity Capital

Net worth
 Debt

Total
Sales
PAT

BV
(Rs)

EPS (Rs)

P/E

P/BV

Promoter's
Stake
29.85
556
_
356
205
19
6.9
118
43.2
_
Consolidated Financials and Valuations for H1 FY22 (Amt in Rs Crs unless specified)

Equity Capital

Net worth
 Debt

Total
Sales
PAT

BV
(Rs)

EPS (Rs)

P/E

P/BV

Promoter's
Stake
29.86
652
_
225
139
22
4.7
174
37
_
The Company has allotted bonus shares in the ratio of two equity shares for every one existing share held and the record date is fixed as December 6,2021 for the issue.
| | | |
| --- | --- | --- |
| Particulars | Pre-Issue | Post-Issue |
| Equity Cap      (Rs. Crs) | 29.96 | 89.87 |
Post Bonus the Book Value will be Rs.7.25 per share.
There was a stock split from face value Rs.10 to Rs.1 on 19 October, 2018.
Key Updates :
The company achieved record breaking trading volumes of 74 BU in FY22.
Andhra Pradesh Central Power Distribution Corporation saved more than Rs. 2300 Crs. in the last two years by procuring power through the Exchange Markets.
The company also entered into renewables trading with the launch of Green Term Ahead Market (GTAM) on August 21, 2020.
On 17th October 2021, IEX received CERC approval to commence the Green Day Ahead Contract as a part of the Integrated Day-Ahead Market. Under the Integrated Day-ahead market, the Exchange will allow the market participants to submit bids together for both conventional and renewable energy through the separate bidding windows.
The Indian Gas Exchange has been seeing an uptick in volumes as well as participation. During the quarter, IGX traded almost 10lakh MMBTU of gas volumes. Cumulatively, IGX has traded more than 15lakh MMBTU since inception. ( Inception was on June 2020)
Overview:
IEX is India's premier energy exchange providing a nationwide, automated trading platform for physical delivery of electricity, renewable power, renewable energy certificates and energy saving certificates.
The exchange platform enables efficient price discovery and increases the accessibility and transparency of the power market in India while also enhancing the speed and efficiency of trade execution.
The Exchange is ISO Certified for quality management, Information security management and environment management since August 2016.
The Indian Energy Exchange is leading India's energy transformation by architecting a markets-based energy order, leveraging technology and innovation towards building a sustainable energy sector which is anchored in efficiency, competitiveness, flexibility and customer choice.
The efforts have resulted in exchanges now accounting for 6% of India's total electricity basket.
Management :
Mr. Satyanaran Goel – CMD
Mr. Vineet Harlalka – CFO
Share Price Trend :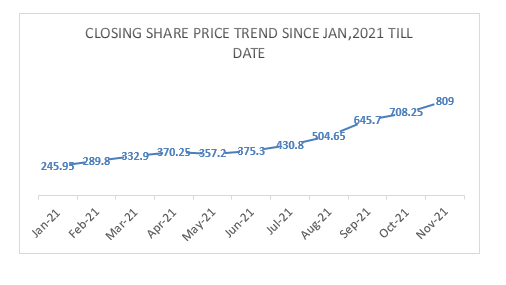 Financials :