SENSEX AND NIFTY STRAIN ON A NEW STRAIN 
Red Flags Fluttering Wildly    
SENSEX 30 ALL IN THE RED TODAY AS SENSEX DIVES 3% TO 45554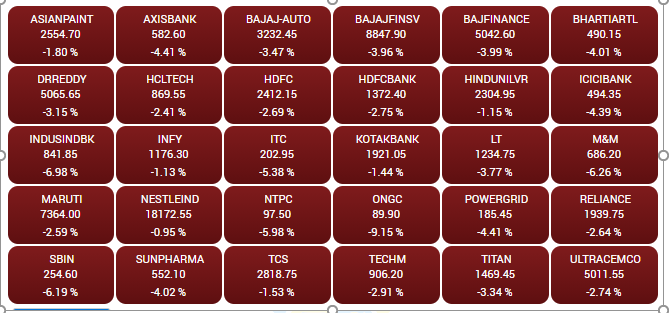 bseindia.com
Sensex and Nifty Correction ~ More Pain ahead
In our SCRIP STANDPOINT  of September  6,2020 we had raised several Red Flags when Sensex had crossed 40000 on the morning of the last trading day in August 2020 before reacting to under 38500 on the India–China standoff in Ladakh.In the three and a half months since then ,India and China have had 20 rounds of negotiations till date to ease the border tension while the Markets had merrily resumed their run up surging above another 23% with the Sensex and Nifty crossing  47000 and 13500 last week on the strength of continuing low yields and record Foreign Portfolio Investor (FPI) Inflows
Correction seemed an Illusion until the crack today as Sensex and Nifty sank 3% and 3.14% to close at 45554 and 13328 respectively.It took a new Covid Mutation Strain announced by United Kingdom at the weekend to trigger a Strain in our Markets
The Red Flags raised in September 2020 have been fluttering wildly and we refuse to accept that the Market Cap/GDP at 1 and the Nifty PE at 37 with a Standard Deviation of 4 is the 'New Normal' as we refused in September 2020 too when these were lower than now but yet high at 0.84 and 32+ and 3 Standard Deviation respectively
It is a dangerous perspective to view the success of such roaring Share Markets as evidence and support and  reflecting of how robust our Economy is going to be bouncing back post pandemic .In that it is highly risky to view the High Share Price and consequent Gains as the decisive yardstick for Business Performance of the Company
So are  Indian Stock Markets ?:
In a Bubble or
Running Ahead of Fundamentals or
A Great Opportunity to buy into more at Dips as 'the best is yet to come' as we're at the cusp of a great bull run and an economic surge in the years ahead as the incumbent government,corporate chieftains and innumerable leading market experts and investment icons are leading us to believe
All the four legs of the Equity Table ~Valuation, Liquidity, Sentiment and Momentum ~  are high ~ pumped up by excessive global liquidity  (US and Europe Stimulus Packages) and low yields and the first administering of the Covid Vaccine with a prayer that this will put the pandemic behind us in 2021  .
In 2020 till date FPIs have pumped in a record net near US $ 22 billion into Indian Equities even after considering the huge US $ 8.4 billion pull out in March 2020.October, November and December till date alone has seen FPI Equity inflows of US $ 2.7 b, 8.2 b and 7.2 b respectively aggregating a whopping and record over US $ 18 b 
| | |
| --- | --- |
| Month in 2020 | FPI Net Equity Inflows in Rs Crs |
| January | 12123 |
| February | 1820 |
| March | -61973 }   Covid Shock Panic Outflows |
| April | -6884   } |
| May | 14569 |
| June | 21832 |
| July | 7563 |
| August | 47080 |
| September | -7783       China Aggression in Ladakh |
| October | 19541   } MSCI Emerging Markets Index |
| November | 60358   } rejig to up India weightage from |
| December (till December 21) | 52699   } 8.1% to 9% |
| | 160945 => US $ 21.89 b at INR/USD 73.51 |
nsdl.co.in, jeena scriptech research
In the Financial Year 2020-21 till date FPI Equity Inflows have been a record of over Rs 2 lakh crs => over US $ 28 b. Since 1991-92 the highest inflow ever before was Rs 1.4 lakh crs in FY 2012-13
In our View ,we are not in a Bubble but yes,the Markets post the March 24, 2020 Covid shock panic Sensex low of 25639  had run up an insane 80 % and way ahead of fundamentals to 47000.The Correction today to 45554 has brought in some sanity.We do sense there is yet more pain before markets stabilise and that in our view would be a healthy scenario 
Two Crucial Red Flags revisited ~ An Updated Scenario
Market Cap to GDP Ratio at a record high of 1 in India
Nifty PE at 37 ,higher than even pre Lehman collapse in 2008 and at four times standard deviation
1 ~ Market Cap to GDP Ratio at a record high of 1 in India
Date
Sensex

Level

Market Cap

(Rs Crs)

Mkt Cap/GDP
Early 2020 High
January 20,2020
42274
1,59,28,030
0.78
52 Week Low
March 24,2020
25639
1,03,69,706
0.51
Current
December 21,2020
45554
1,78,79,323
0.98*
                     bseindia.com, jeena scriptech research
* On FY 21 Estimated GDP assuming -10% fall in GDP
Provisional FY 20 GDP is Rs 203.4 lakh crs => Estimated FY 21 GDP Rs 183.1 lakh crs at -10% fall
In 2007 Pre Lehman bull run era this Ratio was at a bold Red 1.92 in India and the crash that followed took it to 0.52 inside months. This low level was touched late March 2020 this year in the meltdown and at the time we had issued a SCRIP STANDPOINT that revolved around Cash, Courage & Conviction to take advantage of great value opportunities
2 ~ Nifty PE at 37, much higher than even pre Lehman collapse in 2008 and at four times standard deviation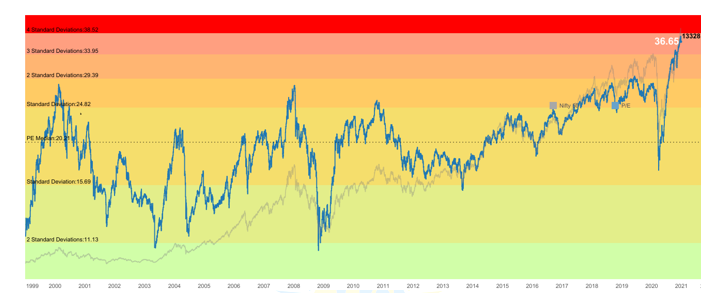 nifty-pe-ratio.com
The Nifty PE had soared past 32 when we raised an alarm in our September 6, 2020 SCRIP STANDPOINT .It yet had continued its wild ride crossing 37 last week before today's correction dropped it to 36.67.In the heady 2000-01 it had crossed 30 in the Ketan Parekh led ICE Bull Run and the Sensex was even crazier at 64 levels in 1991/92 in the late Harshad Mehta led Bull Run. The subsequent market decimation post these bull runs decimated many.
Even Pre Lehman 2007 Bull Market never saw the Nifty PE at above 30.
The Nifty PE at 37 and four standard deviations is one of the most striking red flags that's screaming out a loud warning that Rising Stock Market Levels are out of sync with expected lower Corporate Earnings in FY 21 notwithstanding great expectations of a sterling rebound in FY 22 from a lower base.
More correction is strongly indicated 
Conclusion
Caution Red Flags had been getting more striking every day warning of a significant Stock Market Reversal.
We reiterate what we advised in our September 6, 2020 SCRIP STANDPOINT
"Strict discipline of Asset Allocation needs to be adhered to while balancing out Greed, Fear and Risk and maintaining Cash and Long Term Core in Direct Equity at a sound tactical weightage.
Low Yields are driving increased risk taking and thus driving the rally in Stocks and taking prices and valuations through the ceiling. Bulls are taking comfort in this and there is danger of being lulled into a false sense of security and complacency in that  that this rally will go on and on and on as long as the US Fed keeps expanding it's balance sheet (record Trillions of Dollars already this year) to provide liquidity support. Yet, there's got to be a Limit.
A Healthy Correction will bring back sanity to Valuations and make a sound base for a sustainable Recovery later in 2021 hopefully in a post Covid era and on a global economic recovery."
It's always wise and smart to encash some or all of the strong gains realized once target is achieved in the short term which even though may have been envisioned  in the longer term. If it's a loss situation it may yet be prudent to book it on a case to case basis    
Do remember what outgoing US President Trump warned repeatedly that if he's not re-elected , the Stock Markets Crash that will follow will be Epic and nothing like anything one has ever seen before. He has yet to accept that he has been ejected and not re-elected and that Joe Biden will be sworn in as US President on January 20, 2021
Greetings for the Season with a strong prayer and hope for incoming 2021 that the world is a better place to live in than it has been in this pandemic 2020
Cheers,
Gaurav Parikh, Managing Director
[email protected] +91-9820162597
Disclosure & Disclaimer
Jeena Scriptech Alpha Advisors Pvt Ltd (JSAAPL) is a SEBI Registered Entity offering Fundamental Direct Equity Research Analysis, Equity Portfolio Advisory, Training & Mentoring Services in Capital Markets
This Report is under our free access SCRIP STANDPOINT Module.It is for the personal information of the recipient/reader. We are not soliciting any action based upon it. This report is not to be construed as an offer to sell or the solicitation of an offer to buy any security in any jurisdiction. It is our Viewpoint for general information purposes only. It does not take into account the particular investment objectives, financial situations, or needs of individuals & other entities .We have reviewed the report, and in so far as it includes current or historical information, it is believed to be reliable though its accuracy or completeness cannot be guaranteed. Neither JSAAPL, nor any person connected with it, accepts any liability arising from the use of this document. The recipients of this material should rely on their own investigations and take their own professional advice. Opinions expressed are our current opinions as of the date appearing on this material only. No part of this material may be duplicated in any form and/or redistributed without JSAAPL's prior written consent. In case you require any clarification or have any concern, kindly write to us at: [email protected]