NLC India Ltd
Electric Utilities
FV – Rs 10; 52wks H/L –72.5/35.05; TTQ – 2.04 Lacs; CMP – Rs 46 (As On July 6, 2020);                                  
Market Cap – Rs 6489 Crs
Consolidated Financials and Valuations (Amt in Rs Crs unless specified)
 

Equity Capital

Net worth
Debt

Total
Sales
PAT

BV
(Rs)

EPS (Rs)

P/E

Industry P/E

P/BV

Promoter's
Stake
 FY20
1386.64
12905
24964
11593
1483
93
10.7
4.3
10.57
0.5
79.2
 FY19
1386.64
12769
18924
10778
1537
92
11
4.2
10.57
0.5
80.7
Valuation Parameters:
Debt to Equity – 1.93
ROE % – 11
Market Cap/Sales – 0.6
NLC India and Coal India executed a Joint Venture Agreement on 3 July 2020 for formation of a Joint Venture Company (JVC) to develop Solar and Thermal Power assets to the tune of 5000 MW on pan India basis. (https://www.business-standard.com/article/news-cm/nlc-india-and-coal-india-to-form-50-50-jv-to-develop-solar-and-thermal-power-assets-120070400319_1.html)
The company on Friday (5 July) said it allotted CPs worth Rs 200 crore to State Bank of India, while CPs worth Rs 200 crore and Rs 100 crore were allotted to Nippon India Money Market Fund and Nippon India Low Duration Fund, respectively. (https://www.business-standard.com/article/news-cm/nlc-india-firms-up-on-raising-rs-500-cr-via-commercial-papers-120070300802_1.html)
Key Updates:
Solar Power Projects to the tune of 403.56 MW have been commissioned during the year.
Achievement of Thermal Plant Load Factor (PLF) of 71.95 % against the National Average of 61.07%.
Buy-back of equity shares comprising 9.29% of the paid-up capital at a price of 88 per share.
Synchronisation of Unit 1 – 500 MW of Neyveli New Thermal Power Station (NNTPS) in March 2019, the first of its kind for this capacity in Lignite based Thermal plants in India.
Power Trading License (Category I) for trading of Power has been granted by CERC. Power sold to DISCOMs at a competitive tariff.
During the year the company has achieved the following
| | |
| --- | --- |
| | |
| Lignite Production | 242.49 LT |
| Power Generation | 20676.18 MU |
| Power Export | 17505.30 MU |
Overview:
The Company is presently operating lignite mines with a total installed capacity of 30.60 MTPA and considering the other Projects under formulation / implementation, the total lignite mining capacity will be increased to 62.15 MTPA by the year 2025.
Regarding coal mining, as stated earlier Talabira II & III coal mine project of capacity 20.0 MTPA in the State of Odisha has been allocated in favour of the Company while the Pachwara South Coal Block with a capacity of 11.0 MTPA has been allotted to NUPPL, the Subsidiary Company.
The above two projects aggregate to a coal mining capacity of 31.0 MTPA at the end of the year 2025.
The Company is presently operating thermal power plants with an aggregate capacity of 3140 MW, wind power of 51 MW & solar power plants of 743.56 MW and thus aggregating to a total installed capacity of 3934.56 MW.
Taking into consideration the power projects under formulation / implementation and also the envisaged acquisition of power assets, the Company is poised to grow to 21 GW power generating Company by the year 2025 including Subsidiaries.
The company is operating following Mines and Thermal Power Stations:
Mines :-
Mine–I – This mine, located on the northern part of Neyveli Township in Tamil Nadu, is spread over an area of 26.69 sq km. This mine has reserve of 365 million tonnes and has a production capacity 10.5 million tonnes of lignite per annum. This mine feeds lignite to its 600 MW capacity of First Thermal Power Station and 420 MW Thermal Power Station (expanded).
Mine–IA – This mine is spread over an area of 11.6 sq km. The mine has a reserve of 120 million tonnes with a production capacity of 3 million tonnes of lignite per annum. It caters to the need of 250 MW independent power project, in addition to the requirement of NLC's Thermal Power Stations.
Mine–II – This mine was sanctioned by the Government of India in February 1978 with a lignite production capacity of 4.7 mtpa which was increased to 10.5 mpta in 1983. This mine is spread over an area 27.74 sq km and has a reserve of 390 million tonnes.
Thermal Power stations :-
(TPS)TPS–I –– This is South Asia's first and only lignite–fired thermal power station. This plant was commissioned with one unit of 50 MW and currently possess six units of 50 MW each and three units of 100 MW each. The company has set up additional capacity of 420 MW. It has total generating capacity of 1020 MW
TPS– II – This power plant was constructed in two stages in 630 MW and 840 MW. This power plant has a generating capacity of 1470 MW consists of seven units of 210 MW each.
Management:
Mr. Rakesh Kumar – Chairman & MD
Shareholding Pattern: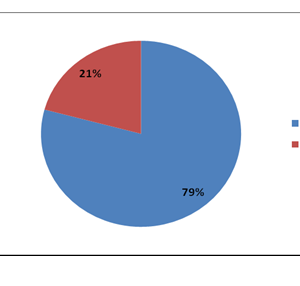 Share Price Trend: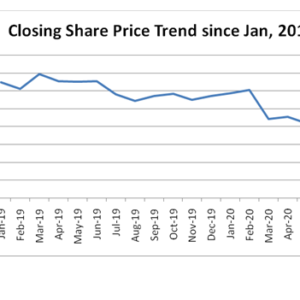 Price History:
| | | | | |
| --- | --- | --- | --- | --- |
| Year | Open (Rs.) | High (Rs.) | Low (Rs.) | Close (Rs.) |
| 2010 | 154.5 | 180.65 | 115.55 | 133.55 |
| 2011 | 135 | 142.5 | 67.65 | 72.7 |
| 2012 | 72.35 | 105.3 | 70.6 | 80.9 |
| 2013 | 81.1 | 87.8 | 49 | 63.85 |
| 2014 | 64 | 108.5 | 54.55 | 80.25 |
| 2015 | 80.4 | 94.25 | 65.25 | 80.45 |
| 2016 | 81.45 | 86.35 | 60.35 | 76.45 |
| 2017 | 76.05 | 123 | 76 | 109.6 |
| 2018 | 110.45 | 119.75 | 65 | 69.65 |
| 2019 | 69.7 | 80.35 | 49.15 | 57.15 |
| 2020 | 57.55 | 62.55 | 35.05 | 46.8 |
Segment Revenue: (Rs. Crs)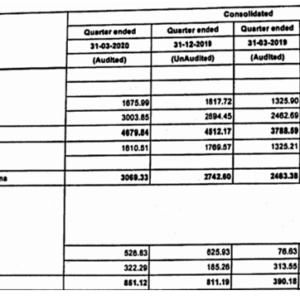 Source – Audited Results
Financials  (Consoildated Financials in Rs Crs  unless specified):
Source – Annual Report
Risks:
Delay in realisation of Power dues
Power Surrender by the Beneficiaries Denial of agreed tariff due to delay in commissioning of project within the control period prescribed by Regulators .
Competition consequent to de-regulation in Indian Power Sector.
Stringent norms prescribed by RegulatoryAuthority affecting power tariff Cost and time over run of projects under execution Higher cost of lignite mining