Southern Petrochemicals Ltd
Fertilizers
FV – Rs 10; 52wks H/L – 25.35/9.5; TTQ – 12 K; CMP – Rs 21 (As On July 17, 2020);                     
            Market Cap – Rs 436 Crs
Consolidated Financials and Valuations (Amt in Rs Crs unless specified)
 


Equity Capital

Net worth
Debt

Total
Sales
PAT

BV
(Rs)

EPS (Rs)

P/E

Industry P/E

P/BV

Promoter's
Stake

FY20

203.64
435
279
2090
67
21
3.3
6.4
9.43
1

52.79

FY19
203.64
371
367
2613
63
18
3.1
6.8
9.43
1.2

52.79
Debt to Equity – 0.64
ROE – 15
Market Cap/Sales – 0.2
During the quarter, the production and sale of Urea of the company were 1.05 lac MT and 1.16 lac MT and for the year production and sale of Urea stood at 5.50 lac MT and 5.54 lac MT respectively.
Of India on 17th June 2015, had permitted the companyto produce  Urea using Naptha as feedstock on existing provisions till assured supply of gas is made available.
Subsidy for the quarter and year end of Rs. 436 crs and 1702 crs has been accounted base don the provisional Retention Price (RP) computed in line with government's policy.
During the year, the sale of tissue cultures recorded a sales turnover of Rs. 8 crs. The demand for the product was low due to unfavorable seasonal conditions and subsidy policy under National Horticulture Mission.
The Company has signed a Hospitality Agreement with Indian Oil Corporation for a period of two years from 1st July 2019 for using their Tank farm facility at Tuticorin Port premises for handling a part of SPIC's Imported Naphtha shipments. This has facilitated SPIC for faster discharge of cargo and thereby minimizing the ship demurrage to a large extent.
One of the Associate companies is putting up a 24.7 MW floating solar power project in the Company's water reservoirs which, when completed during this year, will reduce the cost of power. 
Overview:
Southern Petrochemical Industries Corporation (SPIC) Limited is one of the leading fertilizer manufacturing companies in the country located at Thoothukudi in the State of Tamil Nadu. It is a joint venture founded by Dr M A Chidambaram and Tamil Nadu Industrial Development Corporation Limited (TIDCO), a state-owned industrial development institution.
SPIC is one of the earliest units set up in the country with a vision to produce high quality fertilizers to improve the agricultural output of the country.
SPIC's large fertilizer complex is capable of producing 6.2 lakh tons of Neem Coated Urea.
SPIC is a household name within the farming community due to its ability to enrich the soil consistently throughout the agricultural cycle with maximum nutrient use efficiency.
The Company is a Lead Fertilizer Supplier (LFS) for Tamil Nadu and Pondicherry, we have ensured the usage of 11,611 numbers of Point of Sales (PoS) devices out of 11,980 devices available in the States. The usage percentage is 97 % which is the highest in the country.
Products:
Chemical Fertilizers
Water soluble Fertilizers
Organic Fertilizers
Micro Nutrients
Plant Growth Regulators
Industrial Products
Management:
Ashwin C Muthiah – Chairman
K R Anandan – CFO
Shareholding Pattern: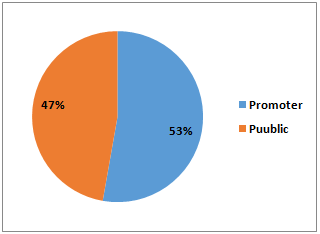 Major Holdings:
| | | |
| --- | --- | --- |
| Non – Promoters | No. of shares held | % shares held |
| Ruchit Bharat Patel | 7013442 | 3.44 |
| Finquest Financial Solutions Pvt.Ltd | 6196897 | 3.04 |
| Hardik B | 431559 | 2.12 |
| LIC | 3926725 | 1.93 |
| Vibgoyar Investors & Developers Pvt. Ltd | 2500000 | 1.23 |
Share Price Trend: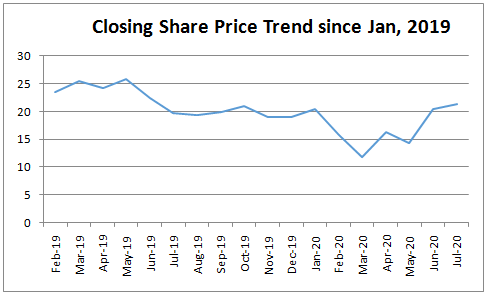 Share Price Snapshot:
| | | | | |
| --- | --- | --- | --- | --- |
| Year | Open (Rs.) | High (Rs.) | Low (Rs.) | Close (Rs.) |
| 2010 | 15.85 | 35.2 | 15.8 | 25.3 |
| 2011 | 25.45 | 37.75 | 14.05 | 14.45 |
| 2012 | 14.55 | 23.1 | 12.75 | 15.55 |
| 2013 | 15.7 | 21.3 | 6.7 | 12.71 |
| 2014 | 12.66 | 30.25 | 10.07 | 23.5 |
| 2015 | 24 | 24.85 | 14.95 | 22.45 |
| 2016 | 23.2 | 27.3 | 17.6 | 18.75 |
| 2017 | 18.65 | 49.2 | 18.4 | 48.7 |
| 2018 | 48.8 | 58 | 23 | 26.35 |
| 2019 | 26.7 | 29.55 | 16.4 | 18.95 |
| 2020 | 19 | 25.35 | 9.5 | 21.4 |