Fineotex Chemicals Ltd
Speciality Chemicals
FV – Rs 2; 52wks H/L – 146.1/35; TTQ – 2.24 Lacs; CMP – Rs 122 (As On November 12 , 2021);                      
            Market Cap – Rs 1351 Crs
Consolidated Financials and Valuations for FY21 (Amt in Rs Crs unless specified)

Equity Capital

Net worth
 Debt

Total
Sales
PAT

BV
(Rs)

EPS (Rs)

P/E

P/BV

Promoter's
Stake
22.15
209
3
236
45
19
4.06
30
6.4
64.74
Consolidated Financials and Valuations for FY20 (Amt in Rs Crs unless specified)

Equity Capital

Net worth
 Debt

Total
Sales
PAT

BV
(Rs)

EPS (Rs)

P/E

P/BV

Promoter's
Stake
22.26
170
3
199
14
15
1.26
97
8.13
71.78
FCL will be commissioning its brownfield project in Ambernath, by June '21 & as soft opening & expanding its capacities. Company have deployed around INR200 million for the plant, INR270 million for the project. The plant will be a state-of-the-art automized plant, which will comply to the highest standards of sustainability and boost growth.The capacity expansion would be around 36,000 tons a year.
Nippon India Small Cap Fund purchased 66,08,595 shares of the company at an average price of Rs 45.25 per share through a bulk deal.
Also, Tejas Tradefin LLP purchased 7,00,100 shares at Rs 47.28 per share.
Overview:
• Fineotex Chemical Ltd is one of the leading manufacturers of specialty chemicals for textiles, home care, hygiene & drilling specialities. Company manufactures range of specialty chemicals which improve process performance from the pre-weaving preparatory stage to finishing chemicals.
• The company has been already registered with municipal corporations as it has supplied to the KEM and Kasturba hospitals in the past. Therefore will help the company in catering demand from this segment.
• The company is witnessing big demand for disinfectant, sanitizers, house floor cleaners. The consumption level of these products has already gone very high.
• FCL is catering in India companies like Chenab, JCT, Auro Dyeing, Auro Textile, Mahavir Spinning, Nahar Group, Reliance, Sai Exports, Himmat Singka, GHCL, RaymondBanswara, Syntex, Sangam, Therefore almost all the biggest corporate houses, Welspun and Trident, are FCL's customer.
• The company has 43000+ MT p.a installed capacities.
• The Company bought back 5,51,580 shares by utilizing Rs. 18.2 mn from cash reserves.
Management:
• Mr. Surendrakumar Tibrewala – CMD
• Mr. Sanjay Tibrewala – CFO
Share Price Trend: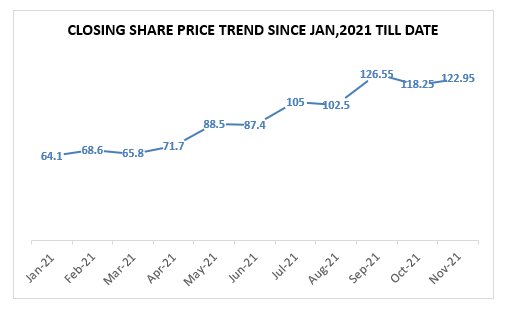 Share Price Snapshot: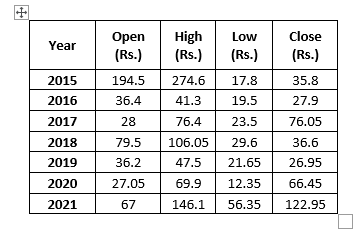 Financials: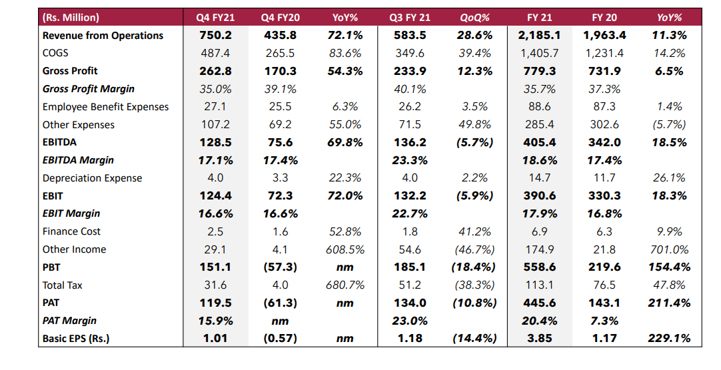 Sources :
Investor Presentation
Concall Transcript