Sadhana Nitrochem Ltd
Commodity Chemicals
FV – Rs 1; 52wks H/L – 146.7/13.57; TTQ – 88 K; CMP – Rs 146 (As On February 4, 2022);                      
            Market Cap – Rs 2870 Crs
Consolidated Financials and Valuations for FY21 (Amt in Rs Crs unless specified)

Equity Capital

Net worth
 Debt

Total
Sales
PAT

BV
(Rs)

EPS (Rs)

P/E

P/BV

Promoter's
Stake
13.97
130
80
103
16
9
1.2
122
16.2
74.02
Consolidated Financials and Valuations for H1 FY22 (Amt in Rs Crs unless specified)

Equity Capital

Net worth
 Debt

Total
Sales
PAT

BV
(Rs)

EPS (Rs)

P/E

P/BV

Promoter's
Stake
19.56
134
105
60
4
7
0.2
730
21
74.02
Key Updates :
The Board of Directors of the Company made a preferential issue of 65,20,606 (Sixty- Five Lakhs Twenty Thousand Six Hundred and Six) Share Warrants, convertible into 65,20,606 equity shares of face value of Rs. 1/- each, to be issued at Rs. 153.36 per Share Warrant/ Equity Share(including premium of Rs. 152.36) approximately aggregating to Rs. 1,00,00,00,137 (Rupees One Hundred Crore One Hundred and Thirty Seven Only). https://www.bseindia.com/xml-data/corpfiling/AttachLive/faca704b-cdf3-4034-a2bd-9c734aace9d9.pdf
The company is in the stage of rolling out PAP plants of capacity of 36000TPA which will be installed over couple of years. The first phase of 6000TPA will be live for production for FY21-22.
The global 1,2,3,4-Butanetetracarboxylic Acid (CAS 1703-58-8) market is valued at 17.41 Million USD in 2021 and will grow with a CAGR of 1.48% from 2021 to 2027 and the company is key player in this segment.
Overview:
The company is engaged in manufacture of chemical intermediaries, heavy organic chemicals and performance chemicals.
Management :
Mr. Asit D. Javeri – Chairman
Mr. Abhishek A. Javeri – CFO
Share Price Trend :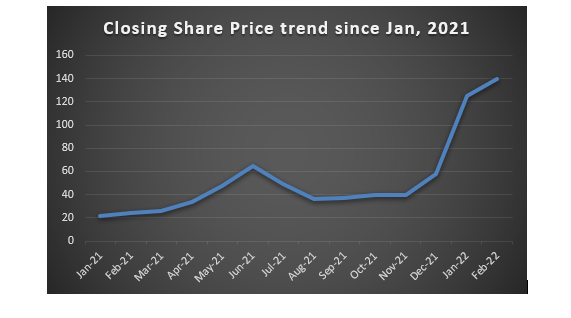 Share Price Snapshot:
Year
Open (Rs.)
High (Rs.)
Low (Rs.)
Close (Rs.)
2016
27.7
39.85
15.1
27.2
2017
29.95
108.35
27.3
94.7
2018
95.1
1,349.95
89.35
881.1
2019
880
887.8
78.75
112.7
2020
111
249.4
18.05
24.3
2021
24.9
74.75
19
57.4
2022
58.4
139.75
52
139.75
Financials : (Rs. In Lakhs)